This idea to combine Xfce with Fvwm I found in Linux Questions discussions. An old topic (2008), a common practice in the mid-20s to merge WMs. Xfce is an excellent application manager and by merging it with the best window/virtual manager Fvwm, the result is light with unlimited functionalities.
This is how it looks:
Xfce panel 1 (taskbar), panel 2 (app icons), and whisker menu. Visible Fvwm extensions (left to right):
Fvwm OverView button of current windows.
Menu for system tasks and wallpapers.
Thin window title bar.
Window manager bar to resize, move, tiling, etc.
CurW/AllW - List of windows on current and all desk pages.
VM Desk - Virtual Window Manager 2x2 Pages.
Thumbnails of iconified windows (terminal and thunar).
1x5 Miniature view of desktops.
Calendar, time, and date button.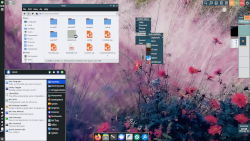 Install Xfce and Fvwm (2 or 3), and download Xfce-FvwmEXT package (one install and upgrade with Extension Installer):
SourceForge
GitHub
Extract and copy subfolders to ~/.fvwm
Copy ~/.fvwm/setup/autostart/XfceFvwm.desktop to .config/autostart/
or add this file and content to .config/autostart/XfceFvwm.desktop
[Desktop Entry]
Exec=fvwm3 --replace
Exec=fvwm --replace

Load Xfce.