I open this topic which has been discussed before about transparency and compositors. This feature is not the strength of Fvwm, also users want to keep a light WM. Is there something for those who want an elegant and modern?
On the recent topic "Solid Fvwm Configuration" by @ILLUXA, there is a "Swan" the "ugly Fvwm duck" can become without losing its lightweight and speed, which I took a look at when @amlug suggested Picom compositor.
Picom is a standalone compositor for Xorg, suitable for use with window managers that do not provide compositing.
It is very beautiful with nice features easy configuration of Shadows, Fading and Transparency / Opacity. The picom.sample.conf (/usr/share/doc/picom/examples/) is a good starting script to add in ~/.config/picom/picom.conf. Any edit has an immediate effect on the look that makes it easy to customize.
Create one autostart
#!/bin/sh
picom

Add this function at the beginning of your config.
SetEnv HOME_DIR $[HOME]/.fvwm
DestroyFunc XFunction
AddToFunc XFunction
	+ I Exec exec sh $[HOME_DIR]/autostart

XFunction

Here is my experiment on myExt Fvwm extensions.
Click on the screenshot…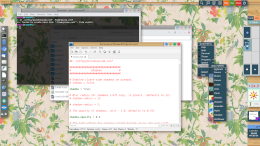 Fvwm Crystal did a good job. With Picom it is easier to make simple and complex configs into elegant desks without losing resources.