I "retired" from computing six years ago. Machines collecting dust since then. Been a heavy Linux user since '92 (bootstrap and all that) and later had an IRIX machine as well as OpenSolaris/OpenIndiana near the end.
Being stuck at home due to Covid-19 I decided to upgrade an old laptop (ASUS i5, 1366x768) and put Linux on it. Feel like a total noob being away so long.
After getting Slackware on the machine (my one true distro, LOL) first thing I wanted to do was build CDE as I did before. But I found NsCDE instead. This things is wonderful! The whole look and feel without the headache. Only needed to acquire or build a few requisites but after that it's all good. Looks nice on the laptop. I believe most things are working well though I have no idea how to use stalonetray.

Thought it was hilarious/silly/sad that someone on Linux Questions translated NsCDE as NS+CDE (mash up of NeXTStep/OPENSTEP/AfterStep/Windowmaker + CDE). Really? Jeez.
At my job, a drive-in movie theater, our projector servers use Linux with a Motif interface so I've never been away from the old school toolkit.
If donations are honored I definitely need to throw something toward the dev. The work is simply amazing IMO.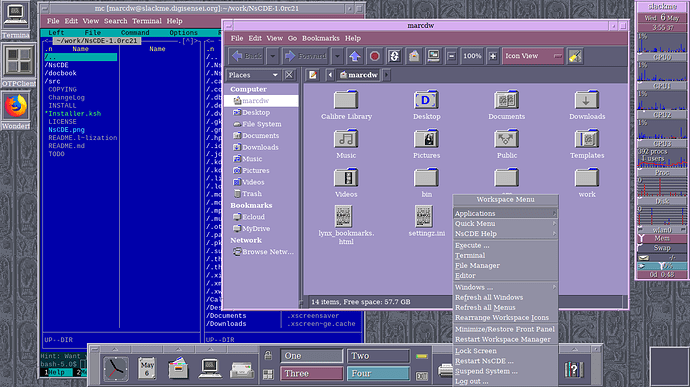 P.S. Is there a tool for Linux that reduces the size of images similar to Send Reduced on Android?