I have been using the wrong search word "fvwm config" to find interesting and useful configs. "Fvwm2rc" is the way to find. For example, Sample-95: .fvwm2rc example configuration file.
At first look, there are four modules that will be interesting to edit/modify for KISe usage: Buttons Bar (horizontal), Mini Buttons, Desker Panel, and WMaker Buttons. The BB and WM have horizontal extension button. This ext button replaces auto-hide function. To make modern-looking WM buttons, instead of visible icon boxes, with Pixmap none (transparent) only icon appears and mini apps. This becomes interesting.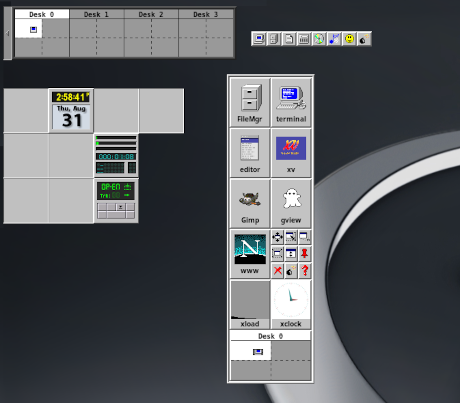 What I like about the BB pager it corresponds/changes with the Desk Panel pager (Desk 0, 1, 2, and 3).
@amlug, if you find interesting links, add them here.